What is Your Writing Space Like?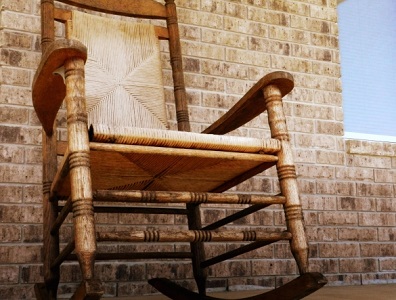 Finding that perfect spot as a writer isn't always easy.  I am sure that even if you "have a spot", you often dream of another perfect writing space.
Right now, my writing space is my old beat up recliner, laptop, and a little end table next to me where I set my coffee on.  It's really not much, but that recliner has been the prime seat for my writing over the last 5 years.  The recliner has seen its days, and sometimes I consider replacing it because of how worn it has gotten over the years.
In the beginning when I started to become a writer, I would use a desktop with a regular office chair.  I do still find that I am more productive on a desktop.  Though I do have a desktop I would love to use for writing, I have issues with my cats when I use it.  I can't lock them out because they have separation anxiety.  To let them in means my tom cat will jump in front of the screen and aggressively paw at it.  I think he still holds a grudge against computer screens from my World of Warcraft days.
Strangely, my laptop doesn't bother either of my cats.  So other than them lounging across my lap when I type, they behave much better when I'm using a laptop vs desktop.
Crazy, I know.  What can you do though?  Cats always seem to find a way to own the house.
What is my dream writing space?
I have a lovely 4 season porch with a wooded backyard.  It is truly a writer's dream, but that too needs some work.  It is almost impossible to keep that area warm in the winter time when it's twenty below outside.  So until I figure that out, it's really only usable a few months out of the year.  Really, that porch would be my dream office if I could somehow set it up just right.
Otherwise, my dream space is pretty simple; a quiet room with a comfy chair and a proper desk.  I'd love it if my one cat wouldn't have such a grudge against computer monitors, but I'll make due.  I still love him despite his quirk.  Ultimately, he just wants attention.
For now I will continue to love my crusty old recliner.  It's comfortable and gets the job done.  As I write this piece, I am sitting on 'ole reliable.  It'll be a sad day if I ever consider saying goodbye to it, but for now it stays right where it is.  I set up a "Writing Space" Pinterest board for those interested in following. Feel free to add me!
Follow Julie's board Writing Spaces on Pinterest.
What is your writing space like?  What is your dream space?