About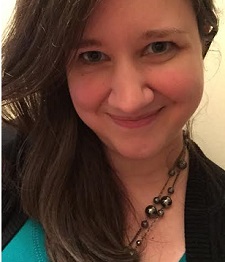 Ever since I could read, I have wanted to write stories. Though I do not have a huge backlog of novels out yet, I have several projects currently in progress.
I have four pieces of work published on Amazon, 100 Science Fiction and Fantasy Writing Prompts, 100 Zombie Writing Prompts, 500 Science Fiction and Fantasy Writing Prompts, and my short story The Infected Manuscript. I wrote the prompts books because I always had an abundance of ideas, just not enough time to write all the stories myself. I wanted to share ideas with others so they could write their own version of the story.
If you ever were to ask my husband what I could talk for hours about with a sparkle in my eye, it would be about the stories I am preparing to tell the world.
Though science fiction and fantasy are  the main genres I write in, I plan to develop a multi-genre backlog of stories. After all, storytelling is my passion first and foremost. The genre I write in isn't my main priority. I write whatever inspires me, whether that be horror, younger reader, picture books, or romance.
A little back story on what I've been up to in the years prior to finishing my novels…
Towards the end of my college career studying communications, I did some online writing for a website called Associated Content before Yahoo! bought it. From there, I wrote for Yahoo! Contributor's Network for another couple of years. Yahoo! eventually stopped running the site and took down all the articles online. For a while, I moved onto writing for Examiner.com and building my own website of video game reviews called GO Critic in 2012. In 2012 and 2013, I attended E3 (Electronic Entertainment Expo) covering demos, interviews and industry reveals as media in Los Angeles, California.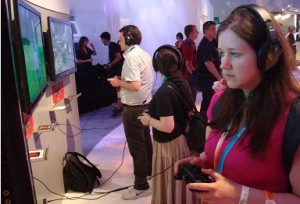 (Me playing Ni No Kuni at E3)
Though I love video games and running websites, I decided to pursue the path of working with video game development and finally getting my own work out there. As of now, I work with the promotions, editing, and social media for Numantian Games.
The first fiction I ever published was a science fiction novella called, "Alone I Walk" in 2012. I plan to revitalize and republish this work as a full trilogy in the future. Though a handful of people may have Kindle copies of the original version, the new book will have an expanded story and improved narrative.
Fast forward to present day…
I have a children's illustrated book that I am working on, a young reader novel at 25,000 words, a fun fantasy romance novel half complete, and several other random stories in the works.
This is is only the beginning. I can't wait to share my stories with you.
I also enjoy art and design. Right now my focus has been do gamer wedding and baby designs for sale on Zazzle.com and a children's coloring book with cats.
I live in the suburbs of Minnesota with my husband, daughter, 2 cats (a calico and tuxedo), and the most adorable little corgi/dachshund mix dog.
To contact me, please e-mail at contact [at] jmwenzel [dot] com.   I'd love to chat with you!