Baby Book Art Reveal

In a previous post I mentioned that I was working on a baby book.
This is still true, and I'm thrilled to finally be able to reveal a couple of pages of art.
The book is being illustrated by Minneapolis based costume designer and artist, Stacey Palmer.  I'm also very fortunate to be able to call her my sister.
The book was originally illustrated by me 13 years ago, but I never was happy with the artwork.  Though I too am an artist, I work more with vector and pixel art.  I saw something very special in Stacey's watercolor art style that perfectly matches the feel to this book.
All of the art is made by watercolor on an 11×17 sheet.  Once the painting is complete, I scan the image and do some color correcting for reprinting.  Some color is lost when it's scanned, so I have been going in on a paint program I own with watercolor brushes to touch up the images.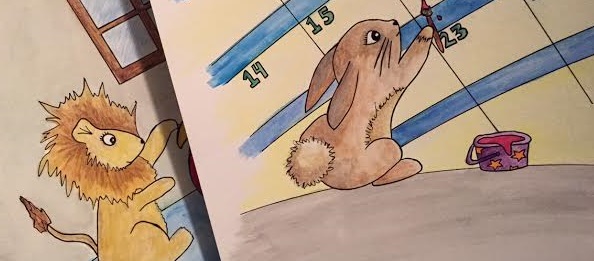 The original watercolor artwork is about half done. In total the book is 26 pages.  Once the watercolor pages are complete I will finish the color enhancing and then format the text and images into a book.  Ultimately I want this book to be a board book, but at this time I only have the resources for softcover, eBook, and possibly hardcover.
So there you have it!  I am very happy with how the book is coming along and can't wait to share the rest of you.
Feel free to contact me to inquire more about this baby book, or visit Stacey Palmer's design portfolio.