It's the holiday season once again.
With that comes a time for giving gifts, but you may find yourself stumped on what to give someone.
Here is a list of ideas for the writer in your life. This list does not guarantee Christmas delivery times. Please check each individual site to see their shipping policies. This list was meant to inspire your holiday purchases if you are stumped on that special writer in your life.
1- Books about Writing
Writers love reference or inspiring books about writing. Here are a few of my top choices.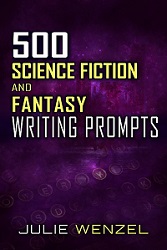 Yes, I am a bit bias because I wrote this book. So here's my one moment of self -promotion on this list. However, I think this would make a fun little gift for any writer that loves science fiction and fantasy. Also, if you purchase the paperback, Amazon will sell you the eBook version for only 99 cents via Matchbook!
The book is sectioned off into 10 sections with 50 prompts per section. Think of a number 1 – 500 and easily find that spot in the book.
500 Science Fiction and Fantasy Writing Prompts is also appropriate for writers of any age. So no worries if you're looking for something for your teen!
Whether someone decides to completely self-edit a book with no other help or wants some pointers on how to get their work to the next level, this book comes highly recommended.
Book description: "Here at last is a book by two professional editors to teach writers the techniques of the editing trade that turn promising manuscripts into published novels and short stories."
Additional Book Recommendations:
2- Coffee, Hot Chocolate, and Fun Mugs
Writers are fueled by their liquid of choice, which is often coffee or hot chocolate. Here are some ideas for the writer in your life.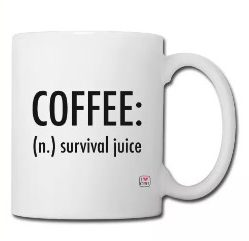 Cute and fun little coffee mugs can be found at the eshop from I Love Coffee.
Other fun places to get coffee mugs include Zazzle, ModCloth, and your favorite coffee shop.
A dark roast coffee. This also comes in whole bean and decaf. There is also a Holiday Coffee Collection for $39.95 that includes Christmas Blend, Holiday Blend, and Espresso Roast.
Other coffee shops have holiday blends as well. Check out their websites for more info.
I recently made my own homemade brew of hot chocolate by mixing 2% milk, sugar, cocoa powder, and cinnamon in a pot. Ever since then, I've become a little obsessed with the idea of making homemade hot chocolate versus a package from the store. Don't get me wrong, I still like store-bought hot chocolate / cocoa.
I mention gifting homemade hot chocolate because not only is a cute, homemade gift, I don't think many realize how easy and delicious homemade really can be. If you live in a cold area like I do, anything warm like coffee or hot chocolate is always appreciated. (A side of cookies is always nice too)
Coffee Gift Cards
Gift cards always make a great present for writers who love their coffee. Some suggested places for gift cards include, Starbucks, Peet's, Caribou, Tim Horton's, and Dunkin Donuts. Be sure to check the location to make sure there's a coffee shop nearby so they can use the gift card. Many coffee shops are only located in specific regions.
For an even more personalized gift, find out if there's a locally owned coffee shop they frequent instead of the bigger chains. When it comes to coffee, many people are very specific.
3 – Other Fun Gifts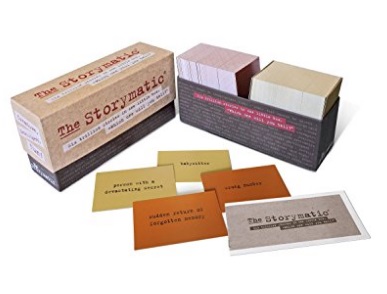 Combine unique cards that act as story prompts. The listing states it has trillions of combinations. This game would be fun for a writer of any age. Reviews list many people use this for youth writing workshops and their classroom. So whatever age you're shopping for, this would make a great gift.
Time to Write – Whether it be babysitting the kids, cleaning the house, or a weekend getaway to decompress. One thing writer's need the most is just time to write.
Amazon Prime Membership (for Prime Music) – Writers need specific music (or for some none at all) when they write. This is a great way to open up the possibility of thousands of albums with no commercials. This is personally how I listen to music when I write.
Register them for a Writer's Conference – These can be costly, but also well appreciated. If you plan on buying a ticket to one of these, be sure to find out if they really want to attend and consider the potential cost of flight and hotels. These will set you back hundreds, but a really generous gift for serious writers.
Here's a list of writing conferences >>> Writing Conferences.
Gift Cards to Book Stores – Writers are also readers. Any writer will appreciate an opportunity to add to their library of books, whether it be fiction for pleasure or reference books.
Signed Books by Authors – Some signed copies can be impossible to come by, but others are easier than you think. Some known and active authors like Brandon Sanderson even have a spot on their site dedicated to purchasing signed copies. Just find out their favorite author and do a quick search. You'd be surprised! Writers love to read. They will have their idols–authors they look up to. Signed books are unique and thoughtful gifts to any writer.
I am sure I missed some ideas as there are many more great gifts for writers such as fun t-shirts, accessories, journals, and more.
If you're a writer, what's on your wishlist?
Article note: None of these links are affiliate links. The only profit I make is a purchase of books I wrote.